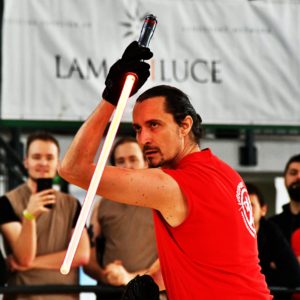 I started LudoSport in 2009 with the excitement of having finally found the chance to wield a lightsaber like the heroes of my favorite movie saga. I never had combat sport experience before, so when I first entered the original "Cripta", I was feeling tense because I wasn't sure about what was about to happen.
The two hours of trial class passed in a blink of an eye and I all I remember is that I had my sign-up module signed immediately thereafter. It was February and the "Fenice" clan members who began months before already cheered among themselves like a group of friends and they just asked me out for a drink after class… it was feeling like entering a new family, and it was indeed!
Every week since then, the urge of wielding a lightsaber rised faster and faster and I couldn't wait 21.oo of Monday to satisfy that thirst with people who progressively have become friends. Gathering to spar between classes, even if just wielding bokkens or broomsticks further increased the bonds of Phoenixes. I couldn't participate to 2009 tournament because I wasn't ready to control my techniques in combat but I remember how "changed" my clan fellows came back to classes after their first tournament. I could feel how much that experience changed their approach to every occasion where they could learn new techniques or improve those already known.
I loved the possibility of having the chance to choose a combat name that could describe me and I chose kaizen, a japanese concept as a tribute to the devotion to work on improving every day, no matter how little the progress could have been. I may have not have had the talent or the training of many around me in LudoSport, but I would have never stopped growing and honing my skills… Results would have eventually come.
My best memories of my early years are related to the 2010 tournament that was held in a castle between Milan and Turin. LudoSporters gathering form Italy came in to spend the entire weekend in the castle, honoring the porkside tradition with great barbecues and resting in sleeping bags in the large empty halls or tower rooms of the ancient building. My tournament ended quickly aginst more skilled athletes but I carry the memories of great duels that became the inspiration to do better and attempt to reach that level. Among all others, I was in awe of  Cristian Barberini "Barberians", one of the first instructors of LudoSport that Masters ever authorized to teach.
My heart still grieves for the sudden loss Cristian, as in my eyes he has been the embodiment of both incredible swordsmanship skills and the Se.Cu.Ri. values. From that moment on I decided that anytime I entered the Arena, my actions should have been a also tribute to the inspiration I could draw from his incredible example.
For business reasons, I had to move to Florence for some years and quit LudoSport training until 2014. That exile however ended with my participation to the first International instructor course ever held by the Masters: the BootCamp! My excitement of having the chance to train to become Form 1 Instructor was incredibly high (if I became instructor, I could have started a LudoSport clan wherever I would have ended up to move in my life, right?) and it was marvellous to spend 10 days in a beautiful place among the hills near Rome to train what I loved. Well, I didn't pass the exam… but Masters were right in considering me not ready to teach to class. My failure at getting my certification simply fueled even more the flame of the desire to work on myself to get beyond my limits! I eventually passed my exam some months later after working on the gaps I had to fill!
My first victory in a tournament occurred eventually at "Saber al Mare" 2015 edition, a nice open tournament organized by the "Ordine delle Onde". The joy of the victory dissolved quickly when I could watch the videos of how I was able to score my hits. An effective but horrible Form 2, nothing that anyone would have considered inspiring. Something clicked within me, I lost my way in the urge of seeking a victory (because, yes, I am competitive)… so I promised myself to never again trade my pleasure of wielding the lightsaber with the sheer need of scoring one more OH.
In 2016 I had the privilege to live in San Francisco with Founder Master Gianluca Longo to help him opening U.S.A. first LudoSport Academy. It's been an incredible life experience that is etched in my heart. In San Francisco, I passed my "Accademico" exam completing the "Apprentice" training of Master Sabnak few days before participating to my first Champions'Arena.
2017 competitions didn't bring me great results because I was definitely out of shape on the other hand I could see the incredible growth of the Clan dei Lupi athletes that I thaught Form 1 with my instructor fellow, Andrea Guerrato. It's impressive how much you can be happy for the achievements of your pupils. I guess this is the path of becoming a good Instructor.
In 2018 I became Tecnico of Form 1 and could run an Instructor course at the SIS. I could fulfill the dream to return the knowledge I could receive in the very same place 4 years before. The 2018 Champions'Arena qualification has been one of my priorities… and I did it! I finally had a good understanding of Form 3 and Form 4 that gave me the chance to express my own combat style better. Being bested 3-2 by my "Fenice" clanmate Mauro "Raidek" Visinoni in the quarters finals and exiting the Arena under the applause of the public for our duel was my victory!
Travelling to Madrid in 2019 for my 3rd Champions'Arena has been epic. Even more being able to step on the Style podium and earning my black belt surrounded by fellow athletes and friends ("Uppi" Francesco D'Addosio, Daniele "Stan" Stancari (an athlete I taught Form 1), Simone "Inox" Pedrazzi, Mauro "Raidek" Visinoni", Matteo Sciotti (an athlete I taught Form 1 during an Instructor course).
Covid years have been tought to the point I prefer not to speak about them except for the great energy I felt from LudoSporters worldwide who didn't abandon their passion and continued training waiting for a better time.
And the time has come to rise again… like the Phoenix from its ashes! I had my qualification to Stockholm Champions'Arena from the 2019 podium, but that wasn't satisfying my inner self. I needed to prove myself worthy of wielding my Phoenix'Charm at next top competition. My physical condition was awful, so I had to work on strategy and experience… I must thank the Masters for having developed Form 1 so well… because it works great (and if it doesn't, that is because you are not doing it right) to the point I could get on Arena podium of Italian national tournament.
Stockholm, the time has come to meet friends and duel…
Stockholm Champions'Arena was a blast! After 3 years, it has been awesome to feel the LudoSport spirit so clearly at the International tournament. I enjoyed all pool duels, where all athletes gave their best in all aspects of the competition, while a special memory has been etched by the duel with Georg Johansson who I was teaching Form 1 in an istructor course years ago. Three full minutes of duel where I had to tap on every bit of experience to balance the incredible athletic skills Georg was able to show. Duel ended with my victory and highest Style score I ever got in a tournament. It is indeed true that the best opponents are who can take the best out of you. Georg is going to be a Champion in the future years, as soon as he will access more advanced Forms of combat.
Sadly, my tournament ended with a self inflicted point while duelling with the incredible Xavi. A pity our last assault had to end that way… even if I had the feeling that the result would have been in his favor anyway this time.
As the Senator of the Tournament, I can only say that I loved the entire event and I am grateful to all the organizing team for the nice atmosphere that I could live through the entire weekend.
#kaizen #weareludosport #onenameonesky
Active Members List
| Season | Club/Academy | P-Combat score | P-Style score | Player tot Score | Player combat | player style | art-result | Team-result |
| --- | --- | --- | --- | --- | --- | --- | --- | --- |
| Total | - | | | | | | | |
LudoSport Network
| Season | Club/Academy | P-Combat score | P-Style score | Player tot Score | Player combat | player style | art-result | Team-result |
| --- | --- | --- | --- | --- | --- | --- | --- | --- |
| Total | - | | | | | | | |
Career Total
| Season | P-Combat score | P-Style score | Player tot Score | Player combat | player style | art-result | Team-result |
| --- | --- | --- | --- | --- | --- | --- | --- |
| Total | | | | | | | |